Czech Scientific Society for Mycology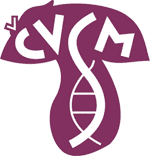 Czech Scientific Society for Mycology is voluntary select organization. It was established in 1946 as Czechoslovak mycological club (Československý mykologický klub), which continued in activities of Mycological club arisen around prof. J. Velenovský.

230 professional and amateur mycologists mostly from the Czech Republic, but also from foreign countries, are organized in Society now.

In 1947 Society started to publish a scientific mycological journal Česká mykologie. In 1993 it was renamed Czech Mycology. Since 1980 the news from life of Society and other mycological articles are possible to found in information bulletin Mykologické Listy. Society occasionaly publishes nonperidical publications.

Society exchanges Czech Mycology journal for many mycological journals. They are put into Society library, which is one of the richest mycological libraries in the Czech Republic.

The members of the Society can take part in activities of three special-interest sections and one regional branch.


Interested in cooperation? Please check membership.